Parish Supports St. John's Hospice Ahead of Annual Warm Clothing Distribution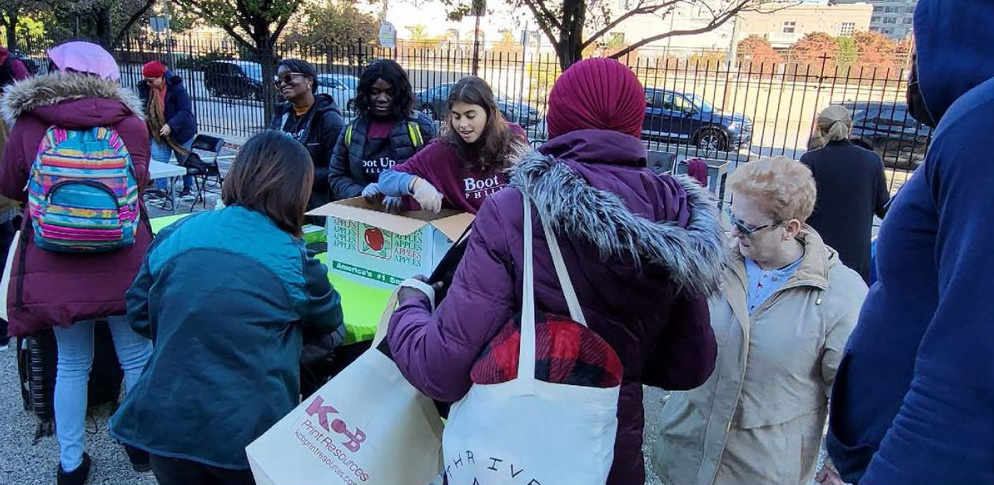 Each year Saint John's Hospice (SJH) provides new boots, coats and other cold-weather clothing to unhoused individuals and families as part of its Boot Up Philly campaign. This effort—which culminates in a day-long event—provides crucial items to ensure that people impacted by poverty get what they need to survive even the coldest winter. Like SJH, the mission of Immaculate Heart of Mary Parish in Philadelphia is to serve the needs of others.
So it was an easy decision for Fr. Ed Casey, pastor of the church, to have a second collection dedicated to Boot Up Philly. In fact, IHM raised $6,109 two years ago for the (then) inaugural drive.
"It is a very worthy initiative. Our parish is always looking for service opportunities," Fr. Casey said. "Many of our people are working or retired, so they can't get out and do these things themselves, so they contribute their money."
The Boot Up Philly event is scheduled for Nov. 4, 2023. SJH staff and volunteers will distribute new warm clothing, such as winter boots, underwear, socks, winter coats – all made possible by donations from the community – to more than 1,000 vulnerable men, women and children. Over $80,000 was successfully raised for this year's drive.
IHM is one of several parishes that support Saint John's each year—this support is critical for the organization's ability to continue providing shelter, showers, food, case management and other day services to 3,500 vulnerable individuals and families year-round.
Fr. Casey's relationship with Saint John's has developed through their casserole donation program, in which IHM donates a truckload of casseroles to feed those who access day services programs or live in Saint John's facility as a resident.
"We are very grateful for the support of our volunteers," said Barry Martin, Program Director for SJH. "Throughout the archdiocese, parishes such as IHM offer their time, talents and treasures to programs such as Boot Up Philly. We could not help these vulnerable populations without them."
Fr. Casey learned about Boot Up Philly through a mailing from Saint John's Hospice. This inspired him to take action in support of this worthwhile cause. "My thought was, we can do that here as a second collection," he said.
Supporting Saint John's and Boot Up Philly was something Fr. Casey wanted to do out of interest and respect for the event. "I think it is good for us because it is a viable service opportunity for our parishioners to share what they have and make a significant impact in the lives of others."
For more information on Boot Up Philly and how you can join the cause, visit https://saintjohnshospice.org/boot-up-philly/.