Programs
Residential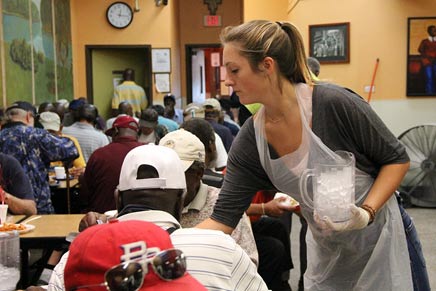 Drug and alcohol-free, 40-bed emergency shelter / residence for men who are in transition from homelessness to independent living in the community; all residents meet with in-house case managers to work through specific issues associated with homelessness and are referred to appropriate treatment centers and skill development programs in the community.
Good Shepherd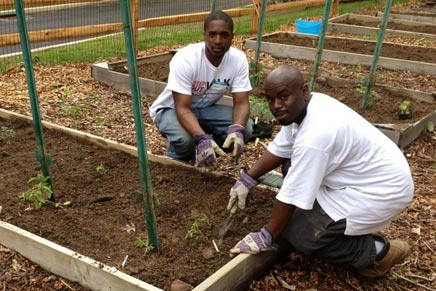 Drug and alcohol-free, 12-bed residence for medically fragile, homeless men; as with the above mentioned program, the Good Shepherd Program focuses on transition from homeless to independent living, while also working with its clients to manage their specific healthcare needs.
Coffee House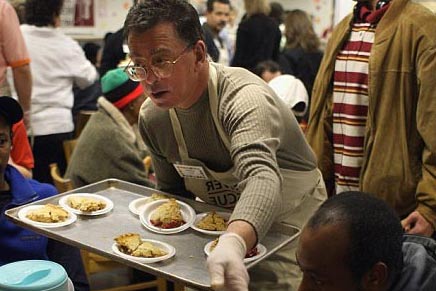 The Coffee House provides a safe resting and sleeping environment for 27 chronically homeless men who typically avoid shelter living. The men are provided a warm meal, beverages, and use of the SJH restrooms. The Coffee House guests are also able to take a shower in the morning before they leave for the day.
The Coffee House operates from 10 pm to 6 am every day of the year. If you are interested in staying at the SJH Coffee House, report to at the corner of N. Camac and Race Streets at 10 pm.
Day Services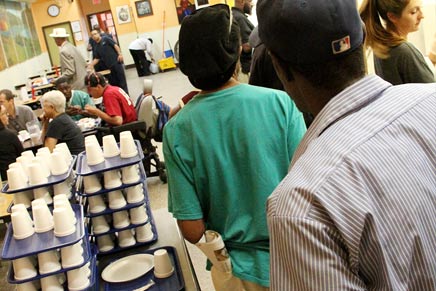 Day services for homeless men and men in need; Saint John's provides a nutritious and hot noon meal for more than 325 men each weekday as well as case management services, on-site nursing services, daily showers and clothing, and a mailroom services for over 900 men.
Noon Meal
Saint John's Hospice Day Services Program Provides:
approximately 325 hot nutritious meals each weekday to homeless and needy men of our city
case management, clothing, toiletries and shoes for all Day Services guests
Noon meal served from 12:00-1:00pm
Dinner is served at 4:00pm on Friday and Monday evenings only (until further notice).
Case Management
SJH Day Services case managers provide:
Brief one-on-one counseling and referrals for shelter, substance abuse, medical services and employment services
Use of phone
All services for Day guests can be accessed during noon-time meal hours of 12:00pm – 2:30pm, M-F
Daily Showers
Weekly walk-in shower services are provided on Monday, Tuesday, Wednesday and Friday of every week, 8:30 am – 9:15 am, in basement of SJH.
All patrons must be finished and leave by 11 am.
Sign-up for a shower during lunch on the weekday before you want a shower. Look for staff with clip boards to register.
Monday showers are reserved for seniors, disabled patrons, and veterans.
Patrons may participate in one shower day per week
When available, we can provide clean clothing and underwear to our shower patrons
Mailroom Services
Mail can be collected at front desk on the following days and times:
Monday through Friday from 10 am – 6 pm
Saturday 12 noon – 6 pm.
Check mail at least once per week.
Mail must be collected in person
No information about mail will be provided on the telephone.
Unclaimed mail remaining at Saint John's Hospice for more than 14 days will be returned to the sender
Notarized permission is required for another person with proper identification to collect mail
Mail cannot be forwarded to any address other than to the original sender
No magazines, packages, or anything that needs a signature are permitted
Checks are secured by the day services case manager and can be collected Mon – Fri, 12:00 – 3:00pm
Proper photo identification or an official Saint John's mail verification from (available from the day services case manager) is required to collect mail.
Please note: the mailroom is open on 2nd Tuesday of the month when other day services are closed.