Shepherd's Pie Casserole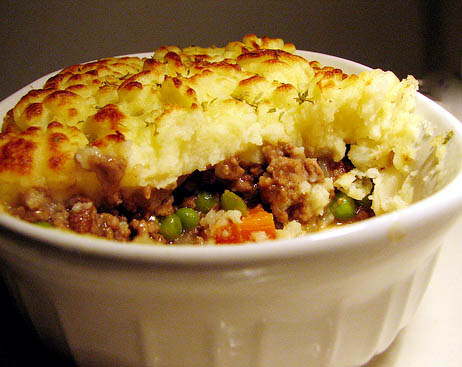 Ingredients
4 Idaho potatoes, chopped
1 small cauliflower, chopped (about 6 cups)
1⁄4 cup non-fat milk
2 tablespoons olive oil
1 tablespoon butter
1 pound 90% lean ground beef
1 large onion chopped (about 2 cups)
4 cups diced carrots
5 cups cooked chicken, chopped
1⁄4 cup whole wheat bread crumbs
2 cup diced parsnips
1 teaspoon dried rosemary
1 teaspoon dried thyme
2 tablespoons flour
1, 10 ounce package frozen peas, thawed
1, 15.5 ounce can lentils, drained and rinsed
Instructions
1. Place potatoes and cauliflower in a large pot and cover with water. Place the pot on the stove over high heat. Bring the water to a boil and cook the vegetables for about 20 minutes or until soft. Drain the water and mash the vegetables with milk.
2. Heat a large sauté pan over medium heat and add olive oil and butter. Add ground beef and cook until starting to brown, about 10 minutes. Add onion, carrots and parsnips and cook for about 15 minutes, until they begin to soften. Season with rosemary and thyme.
3. Add the flour to the meat and vegetables, stirring to coat. Add the beef broth, while stirring. Bring the broth to a simmer and cook for about 15 minutes, until the vegetables are soft and the sauce has thickened. Add the peas and lentils.
4. Spray an aluminum casserole pan with cooking spray. Pour the beef and vegetable mixture into the bottom of the pan. Top with the mashed potatoes, and spread into an even layer. Wrap with plastic wrap and freeze.