Fact Sheet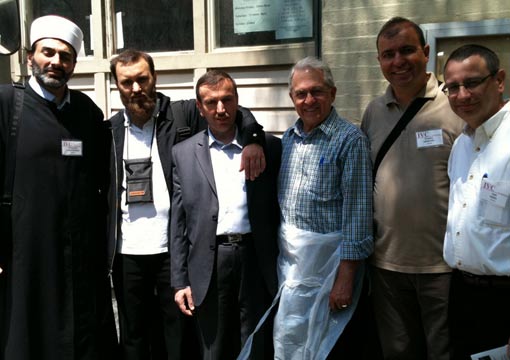 Our Mission
Saint John's Hospice seeks to be a community grounded in faith and service where homeless persons find dignity, respect, nourishment, and opportunities for new beginnings.
Management & Governance
Management: Archdiocese of Philadelphia
Secretariat for Catholic Human Services, James Amato, Deputy Secretary
Saint John's Hospice, Barry Martin, Program Director
Governance: Board of Directors of Catholic Social Services (CSS) of the Archdiocese of Philadelphia
Development: Saint John's Hospice Advisory Board, established in March 2010
Donors
Saint John's Hospice subscribes to A Donor Bill of Rights, developed by the Association of Fundraising Professionals and other organizations.
Only volunteers and staff solicit funds for Saint John's Hospice. We do not hire solicitors.
Saint John's Hospice is a qualified 501c3 Non-Profit/Tax-Exempt Organization, EIN #47-3697165
Volunteers
Saint John's Hospice relies on many volunteers in its ministry to homeless persons. We could not fulfill our mission without this generous service.
During the last fiscal year, volunteers contributed a total of more than 40,000 hours to fulfilling our mission. This is equivalent to our having more than 19 extra full time employees on our staff.
These hours include all help that we have received and for which we have not had to pay: individuals, groups, and community service volunteers. For more information, contact Barry Martin, 215-563-7763 x133.
Report to Stakeholders
Saint John's Hospice subscribes to openness and transparency principles for charitable organizations. This report helps us fulfill that responsibility.
Saint John's Hospice serves homeless and other needy men among us. We fulfill an essential ministry of the Church and are part of Catholic Social Services (CSS) of the Archdiocese of Philadelphia.
We serve in four distinct areas:
Drug and alcohol-free, 40-bed residence for men who are in transition from homelessness to independent living in the community; all residents meet with in-house case managers to work through specific issues associated with homelessness and are referred to appropriate treatment centers and skill development programs in the community
Drug and alcohol-free, 12-bed residence for medically fragile, homeless men; as with the above mentioned program, the Good Shepherd Program focuses on transition from homeless to independent living, while also working with its clients to manage their specific healthcare needs
Day services for homeless men and men in need; Saint John's provides a nutritious and hot noon meal for more than 325 men each weekday as well as case management services, on-site nursing services, daily showers and clothing, and a mailroom services for over 900 men
Emergency Drop-in Center or "Coffee House" provides temporary shelter and food, restrooms, showers, and staff support for 27 chronically homeless men from 10 p.m. to 6 a.m. every night of the year; Saint John's staff works closely with these men, building trust while also encouraging them to seek the help they need to break the cycle of homelessness
In all these services, we go beyond meeting basic and physical needs. We strive to provide the dignity and respect that offers each of our guests the strength to break the cycle of homelessness.
Saint John's Hospice serves all without discrimination. We target our services to adult men regardless of faith, race, economic condition, health, or sexual orientation. (CSS serves women and children through the Mercy Hospice and Women of Hope programs.)
Saint John's Hospice is highly respected among the needy. We're known on the street as "John's" or "Father John's". Our men see us as a holy place in addition to a place to get assistance and nourishment.
Through almost half a century, we have been supported by donors and volunteers of all faiths. Our mission embraces not only Christians but also our Jewish, Muslim, and Buddhist brothers and sisters.