Fact Sheet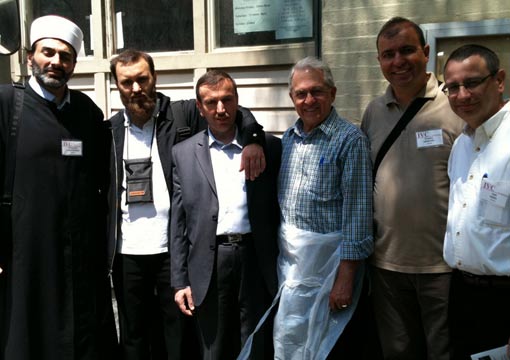 Our Mission
Saint John's Hospice seeks to be a community grounded in faith and service where homeless persons find dignity, respect, nourishment, and opportunities for new beginnings.
Management & Governance
Management: Archdiocese of Philadelphia
Secretariat for Catholic Human Services, Joseph J. Sweeney, Jr., Secretary
Catholic Social Services, James Amato, Deputy Secretary
Saint John's Hospice, David Stier, Program Director
Governance: Board of Directors of Catholic Social Services (CSS) of the Archdiocese of Philadelphia
Board of Directors
Bishop John J. McIntyre, President, Ex-Officio, Archdiocese of Philadelphia
Mr Peter T. Ancona, PECO Energy Company
Mr Bob Byrne, Philadelphia Interfaith Hospitality Network
Ms Marion J. Corbin, Chalfont, PA
Mr Michael Crofton, Philadelphia Trust Company
Mr John P. Delaney, Jr., Office of the District Attorney, Philadelphia
Msgr Edward M. Deliman, St Charles Borromeo Church, Bensalem, PA
Mr Christopher J. Gigliotti, Jr., Community Action Committee of the Lehigh Valley
Ms Denise D. Hodgson, Warwick Hotel, Philadelphia
Dr Dennis Kennedy, Upper Black Eddy, PA
Mr J. William Knott, Vice President, Commercial Banking Group
Tara G. La Fiura, Esq., Secretary, Blank Rome LLP
Mr Vince Liuzzi, DNB First, Downingtown, PA
Mr Manus J. McHugh, Harleysville, PA
Mr James Randolph, Philadelphia, PA
Mr Thomas P. Sholes, West Chester, PA
Mr Julian Staniec, Philadelphia, PA
Mr Joseph J. Sweeney, Executive Vice President, Ex-Officio, Catholic Social Services
Development: Saint John's Hospice Advisory Board, established in March 2010
Saint John's Hospice Advisory Board
Appointments are for two years.
(Initial appointment & term expiration in parentheses)
James V. Coffey, Vice President, The Papal Foundation
(March 2010 … March 2014)
Francis X. Connell, Chief Financial Officer, The Papal Foundation ~ Chairman
(March 2010 … March 2014)
John Egner, Project Manager, Towers Watson
(January 2012 … January 2014)
John T. Gillespie, Journalist, Fund Raiser
(June 2012 … June 2014)
Robert J. Juliano, Vice President, Community Development, Beneficial Bank
(March 2010 … March 2014)
Paul Mulholland, Treasurer, Sunoco, Inc (retired)
(June 2012 … June 2014)
Ryan Newman, Vice President, Investment Management Division, Goldman, Sachs & Co
(November 2010 … November 2014)
Christopher M. Pecoraio, Senior Vice President, TD Bank, Healthcare Financial Services
(January 2011 … January 2015)
Joseph Piccillo, Artist
(March 2010 … March 2014)
Maureen Piccillo, Consultant, Cerberean Consulting Group, LLC
(March 2010 … March 2014)
Rev Dennis J. Witalec, Epiphany of Our Lord ~ Volunteer Chaplain
(March 2010 … March 2014)
Donors
Saint John's Hospice subscribes to A Donor Bill of Rights, developed by the Association of Fundraising Professionals and other organizations.
Only volunteers and staff solicit funds for Saint John's Hospice. We do not hire solicitors.
Saint John's Hospice is a qualified 501c3 Non-Profit/Tax-Exempt Organization.
Volunteers
Saint John's Hospice relies on many volunteers in its ministry to homeless persons. We could not fulfill our mission without this generous service.
During the last fiscal year (July 1, 2014 through June 30, 2015), volunteers contributed a total of more than 40,000 hours to fulfilling our mission. This is equivalent to our having more than 19 extra full time employees on our staff.
These hours include all help that we have received and for which we have not had to pay: individuals, groups, and community service volunteers. For more information, contact Liz Small, Community Relations Coordinator, 215 563-7763 x133.
Financials
Click for Evidence of 501(c)(3) (Non Profit) status.
Click for latest IRS 990, Return of Organization Exempt from Income Tax, for Catholic Social Services of the Archdiocese of Philadelphia.
Click for Budget & Revenues information about Saint John's Hospice.
Profit & Loss Statements
Annual Report
Financial Statements
Return of Organizational Exempt
Annual Budget
Report to Stakeholders
Saint John's Hospice subscribes to openness and transparency principles for charitable organizations. This report helps us fulfill that responsibility.
Saint John's Hospice serves homeless and other needy men among us. We fulfill an essential ministry of the Church and are part of Catholic Social Services (CSS) of the Archdiocese of Philadelphia.
We serve in four distinct areas:
Drug and alcohol-free, 40-bed residence for men who are in transition from homelessness to independent living in the community; all residents meet with in-house case managers to work through specific issues associated with homelessness and are referred to appropriate treatment centers and skill development programs in the community
Drug and alcohol-free, 12-bed residence for medically fragile, homeless men; as with the above mentioned program, the Good Shepherd Program focuses on transition from homeless to independent living, while also working with its clients to manage their specific healthcare needs
Day services for homeless men and men in need; Saint John's provides a nutritious and hot noon meal for more than 325 men each weekday as well as case management services, on-site nursing services, daily showers and clothing, and a mailroom services for over 900 men
Emergency Drop-in Center or "Coffee House" provides temporary shelter and food, restrooms, showers, and staff support for 27 chronically homeless men from 10 p.m. to 6 a.m. every night of the year; Saint John's staff works closely with these men, building trust while also encouraging them to seek the help they need to break the cycle of homelessness
In all these services, we go beyond meeting basic and physical needs. We strive to provide the dignity and respect that offers each of our guests the strength to break the cycle of homelessness.
Saint John's Hospice serves all without discrimination. We target our services to adult men regardless of faith, race, economic condition, health, or sexual orientation. (CSS serves women and children through the Mercy Hospice and Women of Hope programs.)
Saint John's Hospice is highly respected among the needy. We're known on the street as "John's" or "Father John's". Our men see us as a holy place in addition to a place to get assistance and nourishment.
Through almost half a century, we have been supported by donors and volunteers of all faiths. Our mission embraces not only Christians but also our Jewish, Muslim, and Buddhist brothers and sisters.